Deep Sea Fishing Party Boat in Destin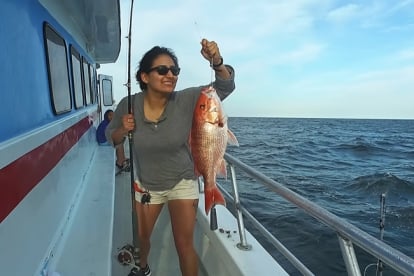 View
All
Book online and SAVE $5 - Great for a family outing!
Embark on an unforgettable offshore fishing party with the friendly folks at Olin Marler Charters. Party boat fishing provides anglers with the unique opportunity to cast, converse, and learn from fellow fishermen from all across the country. The expert Captain and Crew with Olin Marler Charters are also there to help you every step of the way. From baiting to casting, and even removing the fish from the hook!
Activity Highlights
Catch and keep an assortment of popular reef fish including snapper & grouper
Expert Captain and Crew help with baiting lines, removing fish, and equipment
65 ft. walk around boat with bathrooms and A/C cabin
Bait, tackle and fishing license included
Olin Marler Charters is Destin's longest running charter boat operator
What's Included
Bait & Tackle
Fishing License
Instruction
Fish filleting
What to bring
Wash Cloths
Hat or visor
Sunglasses
Sunscreen
Hand sanitizer
Small cooler with ice, food, and drinks
Camera
Restrictions
This trip is not recommended for children under 7
Pregnant women or persons with disabilities must consult their physician prior to booking
Customer must be at least 18 to fish without parental consent.
Trips must receive at least 15 participants to depart.
Glass bottles or items are not permitted on the boat.
GPS devices are not permitted on the boat.
Certain fish species are seasonal and require size limits to keep. https://myfwc.com/fishing/saltwater/recreational/. Check MyFWC.com for more info.
Additional information
Parking available on-site for a fee.
The crew will fillet and bag any fish that the customer catches on the trip that meets regulation and is in season. Please tip the crew appropriately for all the hard work they do on the trip.
Boats are Coast Guard approved up to 42 passengers, but the size of the trip will vary based captains discretion (usually 30-35).
If you suffer from back or shoulder pain, please consult with a physician before booking as the use of the fishing pole can be strenuous at times.
You will travel approximately 10-20 miles out to sea.
The boat will sometimes experience movement and those who are prone to motion sickness are asked to take dramamine or bonine for precaution.
Handicap services are available, please call us when the reservation is booked for proper assistance. In some cases, we are able to accommodate handicap customers.
If the weather or gulf is unfavorable for fishing, the trip will be rescheduled or refunded. If the trip is cut short due to weather conditions, the trip will be prorated.
Types of Fishing
Bottom Fishing: The most common way of fishing techniques, used to catch fish that are found near the sea floor. Each paid person will receive their own rod and reel.
Check the ticket descriptions to see what type of fish you are likely to catch on each trip.
Cancellation policy
Customer must cancel 48 hour prior to the trip time in order to receive a full refund minus a $5 fee. Cancellations received less than 48 hours prior to trip time will not be eligible for a refund. If the captain declares that the trip be cancelled (weather, rough seas etc..), we will attempt to reschedule to the most convenient day possible. If the trip cannot be rescheduled, the full amount of the trip will be refunded to the customer. All no shows on the day of the trip will not be refunded. Trips will require a minimum of 15 passengers to depart. Any changes to the reservation are at the discretion of the charter company and additional charges may apply. We don't always fish in calm conditions! Please inquire with our staff prior to arrival to verify sea conditions and what's in season for fishing. No refunds will be given once the customer boards the boat.
Check Availability/Book online
Read what other TripShock! travelers think about the Deep Sea Fishing Party Boat in Destin. What they loved, what they liked and what they think could be improved, it's all here to help you make the most of your next trip. Only TripShock! customers may leave reviews. Please login to your reservation to post your review.
Review list is filtered by the star count (3). Click here to reset this filter.
Kwanghun Jung AUBURN, Alabama, USA about 4 months ago

15 of our team went and got only 15 small white snappers, flamingo. Went out for 7 hours and able to fish about less than 2 hours: this was not Captain's fault.

Verified TripShock! Traveler Review

Skiey Hardin USA about 6 months ago

The people on the boat were extremely nice people. The only issue was that out of the 6 hrs we only fished maybe 1 hr (if that). It took over 2 hours to get to a location and they only let us fish for a couple of minutes and then we'd move a little further. If you want to enjoy a nice boat ride, this is a great trip to take but if you're like me and really love fishing, choose something else that will allow you to do that. The weather was beautiful and again, the people who owned the boat were SO NICE! Maybe they should put in the description that you will only be able to fish an hour even though it is a 6hr trip!

Verified TripShock! Traveler Review

Management Response, about 6 months ago

Hi Skiey, I'm happy to hear that the crew did a great job on your trip, but sorry to hear that the conditions affected your overall trip. Typically it takes 1.5 hrs to get to the locations where you will find fish, however in this case the captain to travel out further. He also had to move the boat several times to keep the boat on top of the fish. While most trips will offer much more time than you described, there is simply no way to guarantee that they will be in their usual spots as mother nature can affect the best plans. I hope you still enjoyed your visit overall and that we see you again another time. Thanks you for booking with us and for sharing your experience. TripShock Guest Service Manager

Rudy Flores USA about 7 months ago

Fishing was great! Just disappointed only 4hrs of fishing with 4hrs wasted on the round trip. Also some smoking crew members which were great guys blowing smoke which sometimes went straight to my face.

Verified TripShock! Traveler Review

Management Response, about 7 months ago

Hi Rudy, Good to hear you had some good fishing opportunities, but sorry to hear about the smoke. While smoking is allowed on the excursions, it is supposed to be limited to the back of the boat. We'll be sure to let the company know of your feedback though. The 4 hr afternoon trips are great for those who either don't want to get up early for early morning trips, or who just don't have much experience and want to just try deep sea fishing. Next time, take a look at the 6hr or 8hr options as those will give you a lot more actual time fishing. Thanks for booking with us and hope to see you next time! TripShock Guest Service Manager

Andrew USA about 7 months ago

The trip was good, crew was very helpful, ride was nice, fishing was not. We kept moving around searching for fish and didn't have much time actually fishing. When we were catching, most of the fish weren't large enough to keep.

Verified TripShock! Traveler Review

Kenneth USA about 8 months ago

Gulf Fishing Trip-Gulf Breeze-Capt. John Gibson

Shop around a little. I didn't really feel welcomed on this trip. I almost felt like I was bothering the crew for even going. The crew was basically going through the motions. To be fair to the lady crew member, she seemed the friendliest and the most willing to help despite the captain chewing her out as soon as she stepped on board. The other deckhand would cut your fish loose without saying a word or reason. Later claiming that we were at our limit but they weren't keeping track. ... read more

Verified TripShock! Traveler Review

Johnny Nguyen USA about 9 months ago

Went out for red snapper and only caught small white snappers. You're on a boat with 25 plus other people and paying only $70 per trip so expectations were low to begin with. We took a 6 hour trip, 2 hours to get out there and 2 hours to go back in shore. That leaves us 2 hours of fishing time, of that time we probably spent another hour worth of time bouncing from spot to spot. The captain does this on purpose so one area doesn't get overfished. Realistically a 6 hour trip you can expect an hour of fishing time..... the crew is nice and helpful so tip them when u go. We took home 12 baby fish.

Verified TripShock! Traveler Review

Breann USA about 9 months ago

Overall, it was great. We caught a ton of fish and the mates on the boat were fantastic. The captain has a pretty awful temper. Outside of the boat he seems to be a nice guy, but he was pretty gruff in the boat and there were some words exchanged with other boats. The most disappointing thing about the whole tour was that we drove for 2 hours to get to a fishing spot, fished on and off for 2 hours (at one point we just sat in one spot and let the dolphins take our bait), then it took two hours to get back. I wish we had more time fishing. The fish were great and we really did catch a lot. Probably 40 between the 4 of us. And everything was cleaned afterward (you had to reclean afterward, but a good start). We will definitely do it again, just wish there was less of a drive.

Verified TripShock! Traveler Review

Ernest USA about 9 months ago

I had fun with my Brother in law on this charter. However whenever the fish would start biting they would say we are moving on to the next spot as soon as fish would start biting again we would have to real the line in and move on to the next spot. We caught about 10 pounds total of red snapper that's about it. Probably wouldn't take this charter again.

Verified TripShock! Traveler Review

Jason USA about 9 months ago

When you take a six hour charter plan on fishing less than half of that! Drove 1 1/2 hour out and bounced between 3-4 spots just to catch small fish. Threw 3 times as many back as we kept. Biggest fish might have been a pound, might have been. Crew did a great job though. Just thought there would be more fishing and not just a lot of small fish. You are fishing for the small fish to catch as many as possible.

Verified TripShock! Traveler Review

Ashley USA about 9 months ago

Advertising for a 6 hour fishing trip is a little misleading for anyone looking to book a trip. I made reservations for my husband for his first ever trip to Florida only for him to be a little disappointed. Nowhere did I read did it say you only fished for an hour and a half to two hours. I understand there's travel time to get to the fishing spot but when it's advertised as 6 hours of fishing it's kind of disappointing. So we'll know in the future what to expect.

Verified TripShock! Traveler Review
Note: It is the responsibility of the activity/tour company to ensure the accuracy of the photos displayed. TripShock.com is not responsible for any inaccuracies in the photos.