Deep Sea Fishing Party Boat in Destin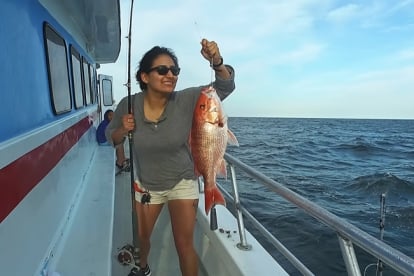 View
All
Book online and SAVE $5 - Great for a family outing!
Embark on an unforgettable offshore fishing adventure with the friendly folks at Olin Marler Charters. Party boat fishing provides anglers with the unique opportunity to cast, converse, and learn from fellow fishermen from all across the country. The experienced captain and crew will help you every step of the way, including filleting your catch so you can bring home dinner! Reel in this fishing deal today with a Destin legend!
Activity Highlights
Catch and keep an assortment of popular reef fish including snapper & grouper
Expert Captain and Crew help with baiting lines, removing fish, and equipment
65 ft. walk around boat with bathrooms and A/C cabin
Olin Marler Charters is Destin's longest running charter boat operator
What's Included
Bait & Tackle
Fishing License
Instruction
Fish filleting
What to bring
Wash cloths
Hat or visor
Sunglasses
Sunscreen
Hand sanitizer
Small cooler with ice, food, and drinks
Camera
Restrictions
This trip is not recommended for children under 7.
Expectant mothers or persons with disabilities must consult their physician prior to booking.
Anyone under the age of 18 must be accompanied by an adult.
Trips must receive at least 15 participants to depart.
Glass bottles or other glass items are not permitted on the boat.
GPS devices are not permitted on the boat.
Certain fish species are seasonal and require size limits to keep.
Additional information
Parking available on-site for a fee.
The crew will fillet and bag any fish that the customer catches on the trip that meets regulation and is in season. Please tip the crew appropriately for all the hard work they do on the trip.
Boats are U.S. Coast Guard approved up to 42 passengers, but the size of the trip will vary based captains discretion (usually 30-35).
If you suffer from back or shoulder pain, please consult with a physician before booking as the use of the fishing pole can be strenuous at times.
Your travel time will be 1-2 hours depending on the length of the trip.
The boat will sometimes experience movement and those who are prone to motion sickness are asked to take preventative measures.
Handicap services are available, please call us when the reservation is booked for proper assistance. In some cases, we are able to accommodate handicap customers.
If the weather or the Gulf is unfavorable for fishing, the trip will be rescheduled or refunded. If the trip is cut short due to weather conditions, the trip will be prorated.
Is your target species in season? (https://myfwc.com/fishing/saltwater/recreational/) Check MyFWC.com for more info!
Types of Fishing
Bottom Fishing: The most common way of fishing techniques, used to catch fish that are found near the sea floor. Each paid person will receive their own rod and reel.
Check the ticket descriptions to see what type of fish you are likely to catch on each trip.
Cancellation policy
Customer must cancel 72 hour prior to the trip time in order to receive a full refund minus a $5 fee. Cancellations received less than 72 hours prior to trip time will not be eligible for a refund by the vendor. If the captain declares that the trip be cancelled (weather, rough seas etc..), vendor will attempt to reschedule to the most convenient day possible. If the trip cannot be rescheduled, the full amount of the trip will be refunded to the customer. No refunds for no shows! Trips will require a minimum of 15 passengers to depart. Any changes to the reservation are at the discretion of the charter company and additional charges may apply. You will not always fish in calm conditions! Please inquire with staff prior to arrival to verify sea conditions and what's in season for fishing. No refunds will be given once the customer boards the boat.
Check Availability/Book online
Read what other TripShock! travelers think about the Deep Sea Fishing Party Boat in Destin. What they loved, what they liked and what they think could be improved, it's all here to help you make the most of your next trip. Only TripShock! customers may leave reviews. Please login to your reservation to post your review.
"Excellent"
Vernon Prestwood Alabama, USA May 19 2019 04:44pm

Verified TripShock! Traveler Review
Review list is filtered by the star count (2). Click here to reset this filter.
Jody Pape USA about 8 months ago

Captain was very rude And Not professional With the customers on the boatI would not recommend anyone to ever go on that boat and I will never go on that boat again

Verified TripShock! Traveler Review

Brandy Baney USA about 8 months ago

Deck hands did a great job. They were courteous, helpful and professional. They worked hard for their money. Didn't care much for the captain. For him being all business we should have been on more fish that we could keep. We caught several fish but most were not in season so we had to throw a lot back. Wouldn't have been disappointed but when a sister ship returns with 4X the amount of keepers it was frustrating.

Verified TripShock! Traveler Review

Lisa Hulbert USA about 8 months ago

It was very disappointing we barely cought any fish , and none we could keep . The boat stayed in one spot for only a couple of minutes and then moved to another. Only three Peaple left the boat with fish they were able to keep Over all I would not rebook a trip

Verified TripShock! Traveler Review

Patrick Wheeler USA about 8 months ago

Go with American Spirit instead

Crew and captain were not friendly or helpful. Boat ride was extremely wet and the boat was poorly maintained. Had a better experience with a bigger boat

Verified TripShock! Traveler Review

Management Response, about 8 months ago

Thank you for sharing your feedback and we'll be certain to let the vendor know. We typically receive terrific reviews for this trip, so I'm sorry to hear you didn't enjoy your time fishing. Conditions can certainly affect these trips so sometimes waves can splash up into the boat. Thank you for booking with us and hope to see you next time! TripShock! Guest Service Manager

Nyle Johnson USA about 8 months ago

Trip was ok but we moved every 2 minutes after we caught a fish. Definitely think there is some type of gimmick to that. We could have stayed in certain spots and caught several fish but we just bump the spot and move on quickly no time to do damage on any spot. Could be because they don't want to fish the spots out, also didn't catch many keepers. Very small white snapper, red snapper weren't in season, trigger fish very small, no real quality. Staff were ok but were making inappropriate, borderline racial comments at African American passengers aboard the boat. Was not the best experience. Do not recommend. Private charters are best. They cost more but you will get what you pay for.

Verified TripShock! Traveler Review

Management Response, about 8 months ago

Thank you for booking with TripShock and we appreciate you taking the time to leave your feedback. This company is the most experienced and most respected party boat in Destin, so I assure you that the goal was to allow passengers to catch as many fish as possible. It's quite possible that other passengers weren't getting bites so the captain will re-position the boat. We have shared your feedback with the vendor so that they can address the issues you describe. Hope you enjoyed your visit to Destin and we'll see you next time! TripShock! Guest Service Manager

Nathanael Zillweger USA about 9 months ago

First off, the crew did a fantastic job and were awesome about every aspect of the ride. Unfortunately, I'm rating 2 stars because the trip should have been canceled before it left the harbor. The swells were greater than 6ft and the wind was probably 15mph or more. There was maybe 15 mins of casting over a 4hr trip. We spent 30 mins getting to the fishing locations and 2.5hrs coming back because the weather was so bad. The ladies at the desk refused to give us a pro-rated ticket when we got back even though the policy online said early returns would be pro-rated.

Verified TripShock! Traveler Review

Awais Muhammad USA about 1 year ago

Boat was over capacity. Sea was rough enough that trip should be canceled. Sea was so rough that no one caught more the 6inch fish. Boat was kept very near to coast line through out the trip. 3 Staff members kept on smoking non stop. They were requested number of times to smoke outside but then didn't listen and kept on smoking inside the sitting area. Very very bad service .

Verified TripShock! Traveler Review

Ron USA about 1 year ago

My wife and I went on the Gulf Breeze with Olin Marlin Charters. The captain is a crusty old man and never once said have a good time. The women's restroom was not working. It was full of waste and had not been cleaned in a while.There was no running water and it was filthy. Once we were back onshore, my wife went to the booth to let them know about the restroom and was pretty much blown off by the woman at the desk. She suggested that she should have used the men's restroom. Overall, the deckhands were helpful and I caught a lot of fish. But, I would not recommend going on this charter.

Verified TripShock! Traveler Review

Management Response, about 1 year ago

Thanks for booking with us and sharing your feedback. I'm glad to hear you caught a lot of fish and that the deckhands did a great job! They truly do make the trips special and work very hard to ensure that everyone has fun and catches as much as possible. The captain does an amazing job at keeping the boat on top of the fish and ensuring safety, but it sounds like he wasn't the friendliest. We'll be sure to let boat's management team know. The restroom had been left inoperable due to one of the passengers not using it properly, so we are sorry to hear of any inconvenience. It has since been repaired. Thank you again for booking with us and sharing your comments. Hope to see you next time! TripShock Guest Service Manager

Skyler USA about 2 years ago

We booked and were assigned the Gulf Breeze with captain John. Check in was easy, we boarded on time, with little instruction. We sat

Verified TripShock! Traveler Review

Ronald USA about 2 years ago

Horrible captain...Great crew!!!

Born and raised in NW FL and I've been going deep sea fishing on our own boat and charters since I was about 7 years old. I'm 39 now. (Just for some background - NOT A TOURIST) This was hands down the worst charter trip I've ever been on. The crew was great. Never needed for anything and they were quick to get fish off the hook for people. The captain was atrocious. I was also in the military so I'm used to getting yelled at.....just not by someone who I'm paying to put me on some fish. Against my better judgement, I scheduled a trip for my dad, father in law, brother in law, 2 nephews, and myself on a party boat. (ALL have been doing this kind of fishing for years - NOT TOURISTS). We had 37 people on the boat that day and 4 got sick and never fished. Out of those 33 people fishing, there... read more

Verified TripShock! Traveler Review
Note: It is the responsibility of the activity/tour company to ensure the accuracy of the photos displayed. TripShock.com is not responsible for any inaccuracies in the photos.