Deep Sea Fishing Party Boat in Destin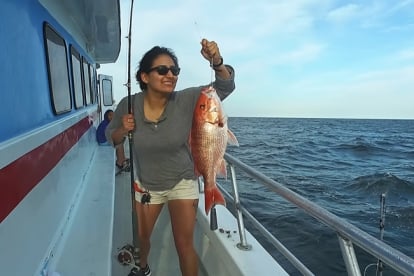 View
All
Book online and SAVE $5 - Great for a family outing!
Embark on an unforgettable offshore fishing adventure with the friendly folks at Olin Marler Charters. Party boat fishing provides anglers with the unique opportunity to cast, converse, and learn from fellow fishermen from all across the country. The experienced captain and crew will help you every step of the way, including filleting your catch so you can bring home dinner! Reel in this fishing deal today with a Destin legend!
Activity Highlights
Catch and keep an assortment of popular reef fish including snapper & grouper
Expert Captain and Crew help with baiting lines, removing fish, and equipment
65 ft. walk around boat with bathrooms and A/C cabin
Olin Marler Charters is Destin's longest running charter boat operator
What's Included
Bait & Tackle
Fishing License
Instruction
Fish filleting
What to bring
Wash cloths
Hat or visor
Sunglasses
Sunscreen
Hand sanitizer
Small cooler with ice, food, and drinks
Camera
Restrictions
This trip is not recommended for children under 7.
Expectant mothers or persons with disabilities must consult their physician prior to booking.
Anyone under the age of 18 must be accompanied by an adult.
Trips must receive at least 15 participants to depart.
Glass bottles or other glass items are not permitted on the boat.
GPS devices are not permitted on the boat.
Certain fish species are seasonal and require size limits to keep.
Additional information
Parking available on-site for a fee.
The crew will fillet and bag any fish that the customer catches on the trip that meets regulation and is in season. Please tip the crew appropriately for all the hard work they do on the trip.
Boats are U.S. Coast Guard approved up to 42 passengers, but the size of the trip will vary based captains discretion (usually 30-35).
If you suffer from back or shoulder pain, please consult with a physician before booking as the use of the fishing pole can be strenuous at times.
Your travel time will be 1-2 hours depending on the length of the trip.
The boat will sometimes experience movement and those who are prone to motion sickness are asked to take preventative medicines like dramamine or bonine for precaution.
Handicap services are available, please call us when the reservation is booked for proper assistance. In some cases, we are able to accommodate handicap customers.
If the weather or the Gulf is unfavorable for fishing, the trip will be rescheduled or refunded. If the trip is cut short due to weather conditions, the trip will be prorated.
Is your target species in season? Check MyFWC.com for more info
Types of Fishing
Bottom Fishing: The most common way of fishing techniques, used to catch fish that are found near the sea floor. Each paid person will receive their own rod and reel.
Check the ticket descriptions to see what type of fish you are likely to catch on each trip.
Cancellation policy
Customer must cancel 72 hour prior to the trip time in order to receive a full refund minus a $5 fee. Cancellations received less than 72 hours prior to trip time will not be eligible for a refund by the vendor. If the captain declares that the trip be cancelled (weather, rough seas etc..), vendor will attempt to reschedule to the most convenient day possible. If the trip cannot be rescheduled, the full amount of the trip will be refunded to the customer. No refunds for no shows! Trips will require a minimum of 15 passengers to depart. Any changes to the reservation are at the discretion of the charter company and additional charges may apply. You will not always fish in calm conditions! Please inquire with staff prior to arrival to verify sea conditions and what's in season for fishing. No refunds will be given once the customer boards the boat.
Check Availability/Book online
Read what other TripShock! travelers think about the Deep Sea Fishing Party Boat in Destin. What they loved, what they liked and what they think could be improved, it's all here to help you make the most of your next trip. Only TripShock! customers may leave reviews. Please login to your reservation to post your review.
"RoughSea"
Michael USA Dec 28 2018 11:48am

Captain Steve did ALL he could to put us on some fish-but the ocean just wasn't cooperating. It was a bit TOO rough today. We definitely will use Captain Olin Marler's Charters in the future. Thanks Capt. Steve

Verified TripShock! Traveler Review
Review list is filtered by the star count (1). Click here to reset this filter.
Thomas Buford, Georgia, USA about 3 years ago

Don't charter your fishing trip here

Party boat trip was OK, no better than anywhere else. The 15 maximum charter is a rip off. You pay a lot more money to fish on it - but they will put MORE THAN 15 PEOPLE on the boat. So, do not fall for the SCAM... It was a horrible trip; worst I have had in more than 20 years of fishing. My entire fishing club will return to Destin, but never to this charter company, or to this booking agent. Booking agent has refused to stand behind the customer. Instead, has made excuses for the charter company. If you promise 15 people maximum and charge more for it - that is what should be provided - PERIOD. I believe there are laws against something like this - advertising one thing and switching to something else - if not, there should be... Wish I could rate them a zero or less...

Verified TripShock! Traveler Review

Management Response, about 3 years ago

Hi Thomas, We are glad to hear your party boat trip was ok. You are speaking of our semi-private trip, which was booked separately from this one. We put up to 15 on it. We added 1 additional passenger on this boat last minute, which hardly affects the trip because the boat holds up to 35. This was a special situation due to the fact that this customer might not be able to fish again due to his health. We rarely make exceptions, and when we do, it's for a good reason. It's clear that you did not have a good time fishing and we are sorry it wasn't a better experience. Thank you for your review and we appreciate you booking with us.

bruce adams cadet, Missouri, USA about 3 years ago

I didn't get my half price parking and the guy said yhey don't honor trips shock parking. They changed the time of the trip. We fished 25 minutes and only 5 people caught a total of 6 fish out of about 30 people. They cleaned the boat with bleach on the way in causing people to vomit due to the bleach fumes. Only only trip I would not recommend of the ones I booked off trip shock

Verified TripShock! Traveler Review

Management Response, about 3 years ago

Bruce, Thank you for the review and feedback. We are sorry to hear that you didn't catch many fish on your trip. I'd like to point out that you booked a 4 hour fishing trip and these trips are the most difficult for our captains. Due to the warm waters and over-fished reefs, our captains can't fish that close to shore. The 4 hour trips are designed for first time fisherman or those looking for an experience. We typically only fish about 45 min on average unless the bite is good. Most catches are small and that's normal for this trip. As far as the parking and potent bleach smell, we will suggest to the mates to hold off next time. They run long days on the boats and like to get a head start on cleaning. We will also talk to the parking supervisor and discuss your situation to make you were not charged more than you should for parking. Thank you again for this review and we'll do our best to make the experience better.

Donald Hensley, Arkansas, USA about 3 years ago

The only reason I scored Olin Marler a 1 is because there is not a (negative) 10.

We booked a 6 hour party boat fishing trip to start at 6 am. We get to the dock at around 5:30 and are informed that the Captain has decided there are 5 foot waves and he isn't going out. We reschedule for a 4 hour trip that afternoon and that is cancelled due to rough water. They offer us a trip the following morning at 6am on a semi-private charter. We gladly accepted as this semi private charter is an upgrade and we really had our hearts set on a fishing trip. We go back to the resort and extend our stay by another night since we were scheduled to check out the next day. That night we get a call from Katy at Olin Marler who states that they can't send that trip out due to rough seas. (This was a lie as all of their boats went out the following morning. I called from the resort... read more

Verified TripShock! Traveler Review

Management Response, about 3 years ago

Donald, Thank you for your review. We are sorry to hear about your experience. Let's face it, last week was a very tough week for fishing and scheduling. Yes, some boats went fishing still as you noticed. We do go out in rougher than normal conditions, but last week was a little too much for some of our captains. Our captains have different thresholds for sea conditions and we can't control their choices since they are the ones responsible for the safety of our passengers. We want our customers to fish! That's why we kept rescheduling to the nearest departures so we could make it happen! Our booking staff was having to move hundreds of customers from one trip to the other so you can imagine the logistical challenge (especially when the weather wouldn't cooperate). We tried hard to get people fishing, but it just didn't work out and you might have not been the only person disappointed. Could we have done a better job at handling your situation? I'm sure we could have, but it still doesn't change the fact that we are at the mercy of mother nature. Please accept our apologies for any inconvenience and we hope that you would give us another try in the future. Regards, Olin Marler Mgmt.

Julee Dallas, Texas, USA about 3 years ago

They should not have taken us out. It was too windy. 4 elderly ladies and 2 men were knocked over by a wave that came over the boat. One person hurt her back and another lost her ring from the massive strength of the wave. The workers never asked if they were ok. About 7 of us were throwing up and the workers never acknowledged us or asked if they could do anything. The boat was not clean, very gross and this was the first trip of the season. There was a guy that was drunk before he ever got on the boat and got worse thru the TERRIBLE 5 hour fishing trip. This crew was about making money not about the people having fun or even being safe.

Verified TripShock! Traveler Review

Management Response, about 3 years ago

Julee, Thank you for taking the time to leave this review. We are sorry to hear about your experience - this is not how we want customers to remember us by. I can assure you that the captain does not take customers out if the conditions are dangerous. Yes, it can be rough at times, but there are not enough calm days in the year for a fishing company to make a living. It's not uncommon to have a few large waves hit the boat. This trip you were on was not the first trip of the season - there have been several trips ran on this vessel prior to your trip date. We'll be sure to inform the crew of your comments so we can deliver the fishing experience we advertise. We apologize once again and hope you will reconsider fishing with us in the near future on a calmer day.

joe Auburn, Georgia, USA about 4 years ago

been out deep sea fishing over 10 times and it was definitely the worst of the 10. 9 out of 10 people was sick and captain should never have taken us out with water so rough. 6 to 8 foot waves. very little fish was caught. clearly they were out to make the money and not benefit of the fisherman..but great staff

Verified TripShock! Traveler Review

Management Response, about 4 years ago

Hi Joe, Thank you for your review and feedback. We are sorry to hear about your experience. Although it was rougher than normal, we did not encounter 6-8 foot seas on this trip, but more along the line of 3-5ft (6-8 foot seas sustained would be a hazard). Deep sea fishing isn't always smooth waters. There isn't enough calm days in a year to make a living for a charter business. We ask that our customers always be prepared for choppy conditions, but we will never put our customers in dangerous seas. It's best to check the sea conditions or call us in advance if you are concerned about this type of fishing experience. We will do our best to accommodate our customers. Thank you again for our review and thank you for the comment about our staff.

Susan Vasquez fort worth, Texas, USA about 4 years ago

This was a 6 hour guarantee to catch fish to keep the crew had no idea where to go and my husband spent 6 hours on the boat and came back extremely disappointed not one fish in 6 hours. The guarantee is a joke no refund only "Thats how it goes sometimes" I would be very careful which boat you choose it was. BIG waste of money. Very disappointed.

Verified TripShock! Traveler Review

Management Response, about 4 years ago

Hi Susan, Thank you for your review. Although we appreciate your business and apologize we didn't meet your husbands expectations, we NEVER guarantee fish on our vessels. It does not say this on our TripShock listing nor do we verbally advertise it on the harbor. Although there are many more good days than bad, fishing is fishing and not catching. The day your husband fished was slow for most of our captains and we will never be perfect. Thank you again for booking with us.

Todd Benson Louisville, Kentucky, USA about 4 years ago

Worst trip of my life. I thought I was going to die (stayed out despite approaching electrical storm). Kids weren't able to fish because the equipment was too difficult for 11 and 8 year olds. Bathroom was a special kind of disgusting. Originally booked for Tuesday, but moved for "mechanical issues". Turns out others were moved off of Tuesday for all kinds of different reasons (just be honest next time). LOL... There will never be a next time. I feel completely taken advantage of!!!

Verified TripShock! Traveler Review

Management Response, about 4 years ago

Hi todd, We are sorry to hear about your experience and deeply apologize about your experience. To be honest, you were moved because the passing of our owner that caused some scheduling issues. We also had some minor mechanical issues that needed to be addressed, but are now resolved. Thats not your problem, but you asked for the truth. When we left the dock, conditions were fine for fishing, but we are in Florida and storms come randomly fast. We did have issues with a pump, which we fixed. We apologize for the smell. It was just a lot of unfortunate events all at once. Please reference this review so that we may offer you a discounted trip in the future. Thank you again for your honest feedback.

Kristy Canton, Ohio, USA about 4 years ago

Paid a lot of money to send my father,husband and son on a fishing trip today. Come to find out they rode around on the boat for nearly 5 hours and only fished for an hour at most and not one person out of 25 on the boat caught a fish. Also was told the captain of the boat didn't show and apparently the replacement was very inexperienced. The other boats in your fleet all were returning with fish. Very disappointed they were not taken care of they way your site boasts. Guess my father's day gift to them wasn't really a gift at all.

Verified TripShock! Traveler Review

Management Response, about 4 years ago

Hi, Brian, Thank you for the review and feedback. Our captain was not a no-show, but the captain we had was a fill-in for the day. We apologize for not delivering the experience you paid for. Please contact us and mention this review and we would be happy to look into your reservation and offer something in the future with one of our regular captains. Regards, Olin Marler Mgmt.

Brian Gore Gardendale, Alabama, USA about 4 years ago

Went out on the Tropical Winds on July 13th. Boat pulled out at 6:30, not 6 AM with a "fill-in" because the regular Captain was off which we were not told about prior to the trip. The Captain (and I use that term loosely) drove around off shore for about an hour and a half "trolling for mackeral", aka killing fishing time, which of course we did not catch any mackeral. We finally got to our first fishing spot at 9:20 AM which no one caught anything and I am being serious...as a matter of fact, the next two places we stopped, we caught ZERO! 31 people fishing and no one caught A SINGLE FISH the entire time! I literally dropped my line maybe 8 times in the water...first rod would skip while reeling, next rod, the whole reel fell off the rod. The deckhands even commented about the Captain and... read more

Verified TripShock! Traveler Review

Management Response, about 4 years ago

Brian, Thank you for the review and feedback. You are correct that we did have a fill-in captain for the day due to the passing of our owner. We apologize for not delivering the experience you hoped for. Please contact us and mention this review and we would be happy to look into your reservation and offer something in the future for your trouble. Regards, Olin Marler Mgmt.

Robert Chattanooga, Tennessee, USA about 4 years ago

Not a fishing trip... Just a boat ride!

I have been deep sea fishing at least 75 times.. Never have had an experience like this.. The longest we stayed at ANY spot to fish was about 10 minutes.. The captain was not interested in fishing, just wanted to take us on a boat ride... Should have done the dolphin cruise and saved a lot of money ....

Verified TripShock! Traveler Review

Management Response, about 4 years ago

Robert, Thank you for the review and we are sorry to hear we didn't meet your expectations. The reason why the captain doesn't stay long at certain spots is because he is careful not to over-fish the reefs. Or maybe the fish finder is not showing much activity and he wants to try other spots. Whatever the reason, the captain doesn't like coming back to the docks without fish. Thank you for fishing with us.
Note: It is the responsibility of the activity/tour company to ensure the accuracy of the photos displayed. TripShock.com is not responsible for any inaccuracies in the photos.