Baton Rouge, LA Visitor's Guide
Baton Rouge, Louisiana, is not your typical big city. Time moves a little slower, people seem a little nicer, and every place you go has a story to tell. Located along the mighty Mississippi River, Baton Rouge is home to a bustling cargo industry. Massive ships and murky waters act as a picturesque backdrop to the city's riverside casinos and historic landmarks including the Old State Capitol and USS Kid Museum. Within driving distance of New Orleans and Plantation Country, a visit to Baton Rouge can easily become an extended tour of Louisiana's top destinations. Whether you're cheering on the LSU Tigers, raking in cash at the slots, or snapping a pic at one of the city's awe-inspiring antebellum landmarks, the good times are many in Baton Rouge, Louisiana!
Best Sellers
Head to Nottoway Plantation and experience the largest surviving Antebellum mansion in the South! Completed in 1859 and... Details
Use Code PLANT13 For 10% Off
1 Hr
Once you've visited Houmas House Plantation and Gardens in person, you'll know why it is called "The Crown Jewel of... Details
ONLINE EXCLUSIVE: Use Coupon Code PLANT13 for 10% OFF ALL Orders!
Varies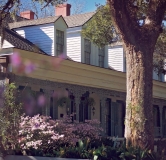 If history steeped in intrigue and mystery sounds like a good time then a visit to the Myrtles Plantation is just what... Details
One Of America's "Most Haunted Houses"
45 Min.
Hop in the car and head to New Orleans Plantation Country, and visit two historical plantations at a leisurely pace.... Details
Exclusive Savings - Use code PLANT13 for 10% OFF!
Varies