Lafayette, LA Visitor's Guide
If you're looking for a vacation destination that is sure to put a smile on everyone's face, why not try visiting the, "Happiest City in America?" And we're not talking about Disney World, we're talking about Lafayette, Louisiana. Lafayette is at the center of Cajun Country and is known for its flavorful food, Zydeco music, beautiful swamp scenery, friendly locals, and, of course, letting the good times roll!

Lafayette is located 2 hours west of New Orleans, and is a city that embraces its Cajun and Creole cultures. History buffs out there can tour the Acadian Cultural Center to learn more about the area's roots. Festival International de Louisiane in April, and Festivals Acadiens in October are two popular festivals that attract visitors to Lafayette from all over the world. Combine this with the year-round delicious food, live Zydeco music, and the charm of the locals, and you'll never want to leave!


Best Sellers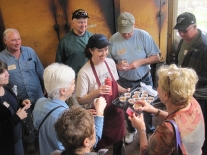 more photos
Take a deliciously exciting cultural ride that is sure to dazzle all five senses. Join Cajun Food Tours for their... Details
Use code TASTE7 for 5% off when you book online.
3.5 Hrs.