Jet Ski Dolphin Tour with Alabama Extreme Watersports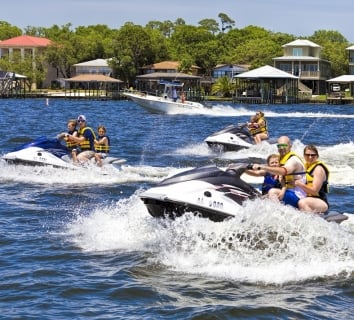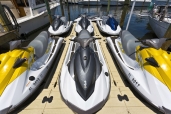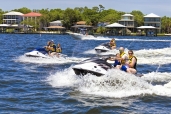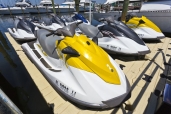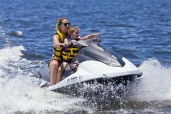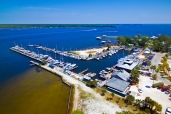 View
All
Hang out with dolphins in their backyard on the gorgeous waters of Orange Beach! Guided by a qualified and professional jet-ski operator, this jet-ski sightseeing tour gets you up close and personal with dolphins and their aquatic friends! Zoom across the bay or take it slow and explore; you're the captain!
Activity Highlights
2-seater Yamaha 4-stroke wave runners
Zippy acceleration, superior handling & stability
95% success rate of finding dolphins
Smaller groups for more personal attention
What's Included
2 Seater Jet Ski
Life Vests
Fuel (1 tank only)
Dry Box for wallet, keys & cell phone storage
Orientation
What to bring
Suntan lotion
Cellphone
Camera (with waterproof case)
Towel
Restrictions
Renters must be 19, possess a valid govt. issued photo ID, and a VALID credit card for incidentals.
Minimum age to ride is 3. All kids have to ride behind the driver and be able to hang on.
Drivers must be at least 16 years of age with a valid drivers license.
Waverunners are strictly prohibited from entering the Gulf of Mexico.
Riders are not required to possess a boaters license.
Only 2 people per jet ski with a max weight of 400lbs.
Minimum of 2 Waverunners to depart for the tour. If they do not get at least 2 paying Waverunners, the customer may switch to another day, take a rental, or request a refund.
Additional information
Free marine parking is available.
This activity is not handicap accessible.
Bathrooms located at the marina.
No service or comfort animals allowed on jet skis.
We reserve the right to refuse service to anyone we feel is not capable of operating equipment.
The top speed of the VX110 Waverunner is approximately 55 mph.
Jet skis have compartments for small valuables such as wallets, watches, and jewelry. However, it is best to leave all these items at home or in your vehicle.
If the weather is unfavorable for boating, the trip will be rescheduled for another time or day. If the customer cannot reschedule, a refund will be issued for the full amount.
If you are forced to return early due to weather or dangerous water conditions while boating, the price will be prorated accordingly.
Fees may be assessed for late return of the equipment. Please return on time. For maximum efficiency, we schedule our tours back-to-back.
Cancellation policy
Customers may cancel at least 24 hours prior to their arrival date and time to receive a full refund minus a $5 service fee. Customers that cancel after the 24 hour period will not be eligible for a refund. If the weather is unfavorable for boating, the trip will be rescheduled for another time/day or a full refund will be issued. No-shows will not be refunded. Customer may make changes to the reservation without any fees as long as it's outside the 24 hour cancellation period. We do not rent to anyone without a US drivers license or under the age of 19! Drivers must be 19 with a valid US drivers license. Refunds will not be given for anyone who fails to comply with this restriction.
Check Availability/Book online
Read what other TripShock! travelers think about the Jet Ski Dolphin Tour with Alabama Extreme Watersports. What they loved, what they liked and what they think could be improved, it's all here to help you make the most of your next trip. Only TripShock! customers may leave reviews. Please login to your reservation to post your review.
"good tour, poor business"
Heather Zimmerman Sikes, LA Aug 9 2016 09:40am

Let me begin by saying the tour was great as was our guide. I have to give this a poor rating because of two things though: 1) When we called to book our tour we were told it would be for Thursday at 5PM. We left the beach, changed clothes and arrived at the location to learn that the tour was booked for Friday instead without anyone contacting us. So we left with a very upset 4 year old. Someone from booking contacted us and was supposed to talk to her boss about getting us a discount on another booking since they messed ours up. She said she would call right back. It has been 5 days and we still haven't heard back from her or anyone. Friday we showed up for our tour and it was post poned due to lightening. We were leaving on Saturday but agreed to do the tour Sat at 7AM before leaving for home. We enjoyed our tour very much. We did purchase the go pro package which brings me to the second complaint. 2) After the tour we were told that the video would be emailed to us. Today is Tuesday and we still haven't received the go pro video via email. I would definitely go on the tour but be careful about your booking because Saturday there was another couple show up for a tour that they thought had been booked for Saturday but booking messed it up and scheduled it for Sunday and I would not waste the money on the video since we have not even received ours.

Verified TripShock! Traveler Review

Management Response, about 3 years ago

Hi Heather, Thank you for writing this review and we are glad you enjoyed the tour. We are very sorry for our mistake. Our staff member did book you for the wrong date and we acknowledge the error and assume full responsibility. As far as the GoPro package, our manager was gone for the weekend that handles the delivery of the video. Once he got back today, he made sure to call you and he told us that you were taken care of. We decided to go ahead and refund you for the GoPro package due to the scheduling error. We hope you would give us a chance in the future. As you can see with our past reviews, this is uncommon of our business to have screw ups like this. Thank you again for visiting us and we hope your vacation was a success!
Review list is filtered by the star count (4). Click here to reset this filter.
Jessica USA about 12 months ago

Our kids are 11 and 13. So my husband and I both drove the skis. Our kids had a blast and we saw lots of dolphins!! They also gave us time to just ride the skis and swim. Great customer service!

Verified TripShock! Traveler Review

Jennifer Metzger USA about 12 months ago

Good instructors. Loss one hour of expensive time

We were cut short one hour due to weather. The instructors were going to make sure you all credited us for the time. It was due to thunderstorms. Thank you~

Verified TripShock! Traveler Review

Management Response, about 12 months ago

Sorry that the weather didn't cooperate but we've refunded the one hour for both skis. Hope we see you next time and that the weather is a bit better! TripShock! Guest Service Manager

Whitney Johnston USA about 1 year ago

We had a great time! Both guides were very helpful and we saw several dolphins. Only issue was a couple of us felt like the steering on the jet skis was slightly off felt like the ski was pulling to the right and difficult to keep it centered, but all in all a great time. Thanks!

Verified TripShock! Traveler Review

Aaron USA about 1 year ago

Had a really great time. Took to long to get going but once we did it was worth it.

Verified TripShock! Traveler Review

Management Response, about 1 year ago

Aaron, we are glad y'all had fun. The process of explaining all the safety stuff can definitely be time consuming, but our customers safety is our TOP priority! Hope to have y'all back again.

Josh Smith USA about 1 year ago

We thoroughly enjoyed this experience. We were the first tour and an employee that was supposed to be there did not show. But, our tour guide Katie handled things well and even though we were a little late getting started, the trip went well. We enjoyed the wave runners and got to see a few dolphins.

Verified TripShock! Traveler Review

Management Response, about 1 year ago

Thank you Josh for the patience and kind review! I know Catie appreciates it too! We are glad you had fun and got to see the awesome local dolphins. :-]

Kevin Haskett USA about 1 year ago

Not as many dolphin as I would have thought, but guides were very good.

Verified TripShock! Traveler Review

Heath Lein USA about 1 year ago

It was my first time on a jet ski with my wife of 26years as a passenger. I wasnt sure if I was going to be able to get her on the thing after the discussion on how to upright a tipped over jet ski. I requested the larger machine which had the ladder to get back but fortunately we didnt need to use it. Tour was ok but was difficult to hear everything being said. I am a bit of a history and nature buff and was hoping to learn more about the history and marine life. All in all a good tour found it to be fun and relaxing.

Verified TripShock! Traveler Review

Management Response, about 1 year ago

Glad yall had a fun trip with us. We like to give some fun facts about dolphins and the area, but I can understand how it might occasionally be hard to hear. Hope to see yall again!

gina USA about 2 years ago

This was the first time we've ever been on jet skis. Our tour guide didnt seem to take that into consideration. He took off and left us behind and we struggled to keep pace most of the time. He rarely checked behind him to see if anyone was missing or had trouble. Once he got so far ahead we couldn't even see him on open water. We did get to see several dolphins and was a great interactive way to enjoy observing them in the wild. Would definitely do it again

Verified TripShock! Traveler Review

Laurena Mendelsohn USA about 2 years ago

It was a great time!!! The guide let us do our own thing and then we saw some dolphins at the end!!

Verified TripShock! Traveler Review

Kellie Burks Boonville, Indiana, USA about 3 years ago

Fun but could have been awesome!

I loved the ease of booking our trip on tripshock! The staff was friendly and very accommodating! We have participated in several jet ski tours in the OB area that were more fun and adventurous where the guide took us back into lagoon like areas that were lots of fun to ride through. We asked our guide about this and she wasn't familiar with that area but was open to letting us lead the way. We found one and rode through it several times.. I yhink this was everyone's favorite part! Unfortunately we ran out of time to ride to the other longer lagoons. Our guide was very sweet and wanted us to enjoy the ride, I would just suggest that she become more familiar with the "swamp"areas to add a little more excitement to her tours! I would still highly suggest everyone do the tour!!

Verified TripShock! Traveler Review
Note: It is the responsibility of the activity/tour company to ensure the accuracy of the photos displayed. TripShock.com is not responsible for any inaccuracies in the photos.